The exhibition will be located in Parkinson Court with catering and poster presentations.
An exhibition floor plan can be downloaded here.

Exhibitors at Magnetism 2015:
---
Stand 1 - Durham Magneto Optics Ltd.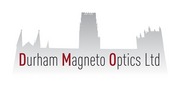 Durham Magneto Optics Ltd. specialises in advanced scientific instrumentation for nanotechnology research and development. Our product range includes a family of magneto-optical Kerr effect magnetometers (NanoMOKE) and a family of direct-write laser lithography machines (MicroWriter ML).
---
Stand 2 - Zurich Instruments
Zurich Instruments makes lock-in amplifiers, phase-locked loops, and impedance spectroscopes that have revolutionized instrumentation in the high-frequency (HF) and ultra-high-frequency (UHF) ranges by combining frequency-domain tools and time-domain tools within each product. This reduces the complexity of laboratory setups, removes sources of problems and provides new measurement approaches that support the progress of research.
---
Stand 3 - NanoScan AG


NanoScan is a Swiss company that strives to achieve the best magnetic resolution in Scanning Probe Microscopy on the market. We offer two versatile Atomic Force Microscopes (AFM) for high-resolution magnetic force mode, as well as for all traditional AFM modes of operation (contact, intermittent, non-contact, etc):
The VLS-80 is a high-resolution Magnetic Force Microscope with an extra large stage operating in high-vacuum. It guarantees 10 nm magnetic resolution, and offers excellent positioning repeatability over the complete sample stage of 100 mm x 100 mm.
The PPMS-AFM can be operated at low temperatures (2-400 K) and high magnetic fields (0-16 T). It is designed to fit into 1-inch bore cryostat, but can also be operated at room temperature in high-vacuum. The PPMS-AFM guarantees a 15 nm magnetic resolution.

---
Stand 4 - Oxford Instruments


Oxford Instruments designs, supplies and supports high-technology tools and systems focused on research and industrial applications. In nanotechnology, solid state and condensed matter physics, chemistry and materials science, our leading-edge technologies support research down to the atomic scale through creation of high performance, cryogen-free low temperature, magnetic, and UHV instruments.
---
Stand 5 - Cryogenic Ltd
Cryogenic Ltd continues to lead the market in superconducting magnet systems for fields up to 22 Tesla. The recent successes include a high field VSM to 20 Tesla, cryogen free measurement system to 18 Tesla, 3D vector field magnet with temperatures down to 10mK, fast ramping 7 Tesla magnet system and UHV systems.
---
Stand 6 - IOP Publishing


IOP Publishing is an international, not-for-profit, learned society publisher. Our catalogue comprises many leading journals including Journal of Physics D: Applied Physics (JPhysD). A major international journal, JPhysD reports significant new results in all aspects of applied physics research. The journal's coverage is deliberately broad, and includes theoretical, computational and experimental studies.

Please visit the booth to meet a member of JPhysD's editorial team and discuss options for publishing your research, browse through our journals and magazines and take a free sample, or come for a demonstration of our award-winning electronic journals service and community websites. We will be very happy to meet you!
---
Stand 7 - Springer


Springer is home to more than 2,200 English-language journals, publishes over 8,000 new books every year and is proud to offer the largest single collection of STM books in the world. Librarians, researchers, students and faculty at the world's most prestigious research institutions – academic, corporate and public – have come to trust and rely on Springer's high quality content in five main fields: science, technology, medicine, business and transport. As home to the world's largest STM eBook collection and the most comprehensive portfolio of open access journals, as well as some of the most user-friendly technology in the industry, Springer is committed to being the very best partner in research to scientists, librarians and practitioners the world over.
---
Stand 8 - Mantis Deposition


Mantis Deposition was established in 2003 by scientists who have the winning combination of deep understanding of nanotechnology, instrumentation and thin film deposition.
We are a specialist instrumentation company developing high quality deposition components and systems for the thin film coating community. Our engineering staff are fully qualified and competent in the field of manufacturing, assembly and installation of vacuum deposition equipment.
Our products are designed for all cutting-edge materials research (nanocoatings, MBE, Surface Science, PVD..) and pre-production coating applications.
The Mantis range of deposition products include component sources and flexibly configured deposition systems based on our own UHV deposition components. We also offer a specialist coating development service using our unique nanoparticle deposition technology.
Mantis products are used in a range of academic and research applications at the forefront of thin-film coating technology. To date Mantis has sold over one hundred deposition systems worldwide.

---